This year especially we cannot wait to spend it outdoors in our gardens or on the beach surrounded by our close friends and family. With some fresh and smokey burgers and sausage cooking, a nice cold beer or Pimms what could be better!
Whether you're more of the entertainer in your garden or the adventure seekers looking for a great place to camp and cook up we want to make sure that you have the best options for yourself! 
We always recommend buying a BBQ cover to protect these during times when it is out of action, so be sure if you do not have one to buy this as well. It's also good to note to check the gas BBQ as most do not come with the gas bottle!
The Best Large BBQ 
Classic Gas & Charcoal Matte Grey BBQ – 6 Burner
Available from £799.99
A great addition to your outdoor kitchens, not only does the Classic Matt Grey colour transform your outdoor area, but its technology will take your cooking to a whole new level, you'll be wanting to BBQ even in the winter!
Featuring a classic 3 burner, but with a 24kW heat output, this 6 burner has more than generous cooking power for large group entertaining. The hybrid technology will allow you to choose between the slow cook of charcoal or the instant result of gas, and it even has the option to create an oven for cooking food; which are all amazing options to have when entertaining guests outside.
The double grill system means less fat, no flare-ups resulting in more intense flavour – and this also means there is less fat when it comes to cleaning up. All you need to do is brush the grills and empty the fat cup. 
"Our BBQ is contemporary and well-formed, to sit effortlessly into the al fresco dining space of your outdoor." – Cox&Cox 
There's just so many amazing thing about this BBQ, we've broken them down some more below:  
Take Note, Features and Specs
Our BBQ has a unique patented technology and offers powerful heat from a total of 6 burners.
As a hybrid you can choose a slow traditional charcoal BBQ or for an instant BBQ choose gas.
The charcoal trays easily sit over the burners under the double grill.
The tray can then be filled with charcoal briquettes lit with the gas burner and used as a normal charcoal BBQ.
Once the charcoal burns out you can either refill or continue to cook with the gas.
Alternatively the trays act as a flame tamer to the gas burner giving you an even cooking surface with the convenience of a gas BBQ.
The charcoal trays are easy to light with the gas burners with no need to taint you cooking with easy to light charcoal that has been treated.
When the charcoal runs out you can simply switch to the gas to continue to cook straight away.
Double grills allow oils and meat fats to run away from the coals avoiding the flare-ups that burn your food.
Should you choose gas it will allow you to cook straight away and provide a consistent cooking temperature under the grill whilst being fuel-efficient and simple and easy to use.
This product takes approximately 60 minutes to assemble with 2 people. The fittings pack contains small items which should be kept away from children. Read this leaflet in full before commencing assembly.
Requires 4 x AA batteries not included.
Dimensions (Approx) – H 115cm x W 159cm x D 52cm
The Best Garden Charcoal BBQ 
Landmann Taurus 440 Charcoal BBQ – Black
Available from £149.99
This BBQ we can't recommend enough if your garden is slightly smaller and you can justify a huge BBQ taking up a lot of room. Its compact design makes it the perfect smaller option, although it can serve up to 6.
With an integrated lid thermometer that will ensure your food is cooked at the perfect heat. The removable ash catcher gives a keen barbecuer all they need to cook up a barbecue feast with family and friends with ease and less stress of cleaning after.
An ideal space saver, this model's removable side shelf enables storage in small spaces. And, we can't mention how this is such a classic style looking BBQ at a fraction of the price!
There's just so many amazing thing about this BBQ, we've broken them down some more below:  
Take Note, Features and Specs
Self-assembly
Powder-coated hood and fire bowl
Integrated hood thermometer
Enamelled cooking grills
Cooking area: 44cm x 36cm
Enamelled charcoal grid
Height adjustable charcoal grid
Large warming rack: 40cm x 18 cm
Sturdy removable side shelf
Easily removable ash catcher tray
Suitable for up to 6 people
5-year limited warranty
Dimensions (Approx) – W: 81 cm H: 104.5 cm D: 49.5 cm W: 17.4 kg
Colour: Black
The Best Value for money BBQ
Charcoal Garden BBQ
Available from £41.99
Yes, you did read that correctly, from £41.99! Amazing we know, but wait till you read more…The Stainless Steel pedestal is one of the most popular models, offering high-quality components at an affordable price.
Serving up to 4 people, with the Cooking area – 39 cm diameter it's the perfect BBQ for those of us with smaller gardens, or if you would prefer a BBQ suitable for smaller group sizes.
The removable ash catcher makes it easy to clean, and its lightweight makes it easy to move around your outdoor area, and a handy windshield keeps those flames under control.
It's easy to assemble and provided with a flat surface is stable and truly a BBQ you can rely on. An all-around winner – and we love this quirky design!  
There's just so many amazing thing about this BBQ, we've broken them down some more below:  
Take Note, Features and Specs
Self-assembly
Stainless steel fire bowl pedestal base and windshield
Chrome-plated cooking grill with wooden handles
Stainless steel ventilation disc in the pedestal
Stainless steel charcoal grid
Removable ash catcher
Portable
Easy assembly
Cooking area: 39 cm diameter
Product dimensions: H 84 cm W 63 cm D 44 cm
Colour: Silver / Black
The Best Gas BBQ
Charbroil Professional BBQ Pro S2 
Available from £549.99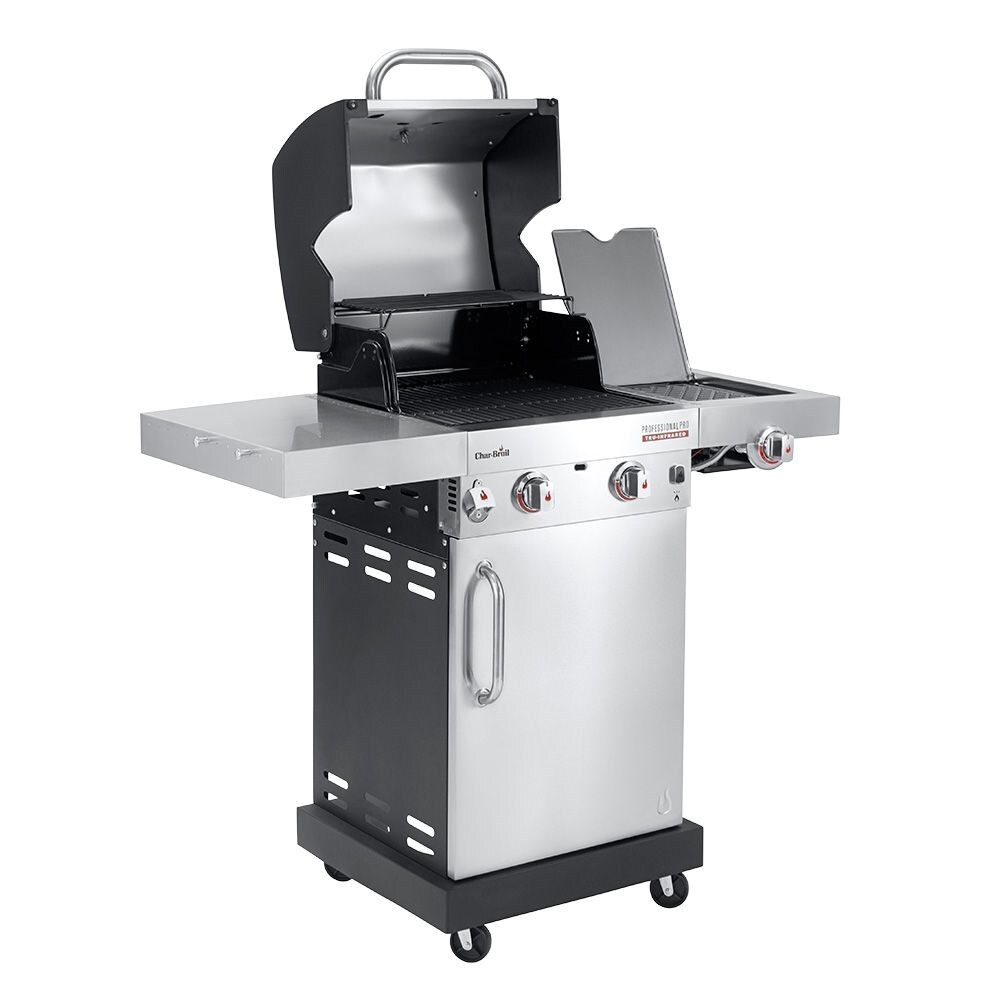 You can't really go too wrong with a gas BBQ, and this option will leave you hassle-free right from the start to finish. You can start the grill with a simple touch of the button and without any open flames.
The upwards-facing stainless steel burners produce maximum heat with low gas consumption. If you are a big fan of your steaks on the BBQ as well, then this is 100% the machine for you – with two gas burners, in tandem with the TRU-Infrared™ emitter, produce radiant, even heat – grilling without flare-ups and sealing in juices for succulent, fall-apart tenderness. 
But we have to agree that the real winner is the sear burner positioned to the side. Quickly reaching up to 900°C, it will put the seal on your cooking with professional char-grill marks for fantastic flavour and the perfect crispy crust; allowing you to have multiple food cooking at the same time.
With a built-in bottle opener and folding side shelves provide extra workspace, it's the perfect BBQ for entertaining. Can you tell why we love this BBQ? 
There's just so many amazing thing about this BBQ, we've broken them down some more below:  
Take Note, Features and Specs
High-performance sear burner
Dual operation – gas and infrared heat
Porcelain-coated cast iron grill for easy cleaning
Dimensions (Approx) – W 120cm x D 54cm x H 125cm (main cooking area 48cm x 44.5cm) Weight 44kg
The Best Portable Charcoal BBQ
Weber Smokey Joe Smoke Grey Charcoal Portable Barbecue
Available from £79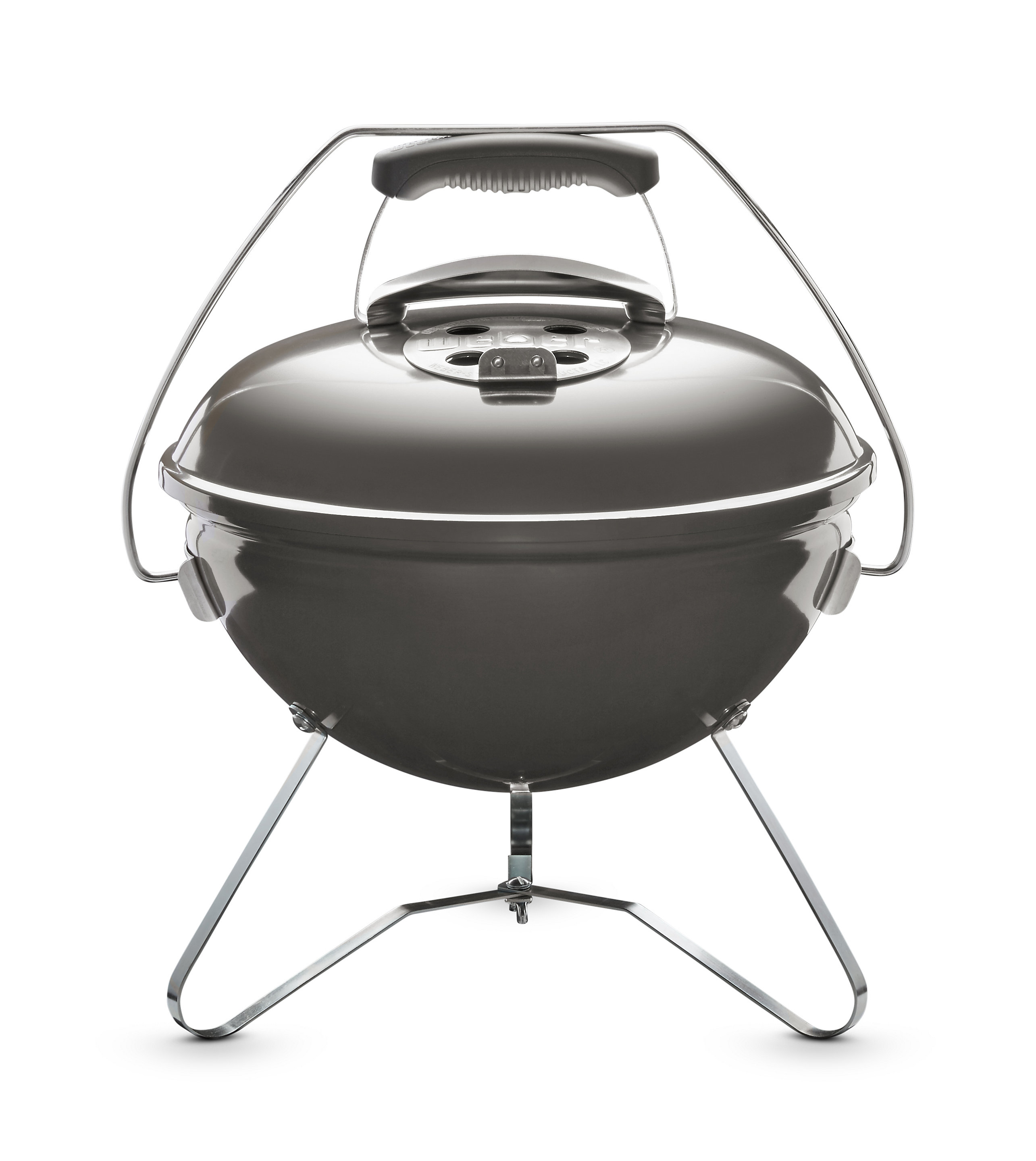 A great option for a much smaller barbecue – suitable for 2 people. The total weight of this BBQ is 1kg, so it's easy and lightweight to move around. It is ideal for transporting particularly if you are going camping or for a picnic the possibilities are endless.
Its porcelain enamelled body, with a rustproof coating and vents for longevity, is a great feature, along with the tuck-n-carry lid, all designed for easy transportation.  
If you are looking for a very simple 2 person charcoal BBQ, to go on adventures with you then this is a great option for you!
The Best Statement BBQ
Callow 402L Stone Masonry BBQ
Available from £800
This beautiful BBQ is truly a standout item to have in your garden! Manufactured from an attractive light slate with pale grey and brown tones, the brickwork brings a bit of the indoors out, that can instantly create a homely feel to your garden.
The internal grill is lined with fire bricks, ensuring the best thermal quality and performance for grilling your meat and vegetables. What's more, the chrome-plated grill offers plenty of room for your barbequing and has 3 adjustable levels to choose from so you can get your cooking just right.
The ashtray underneath the coal bed makes it easy to keep clean. Includes a manual rotisserie for experimenting with succulent rotisserie cooking. Designed to work with charcoal or lump wood charcoal, wood chips or chunks are also great for adding extra flavour to your grilled food.
The attractive large chimney top draws air through the BBQ to keep hot, even grilling temperature. The shelf underneath the grill is the perfect storage solution for all your extra BBQ accessories and fuel.
 The Rondo light slate masonry BBQ will create a great focal point for your garden or patio. The BBQ comes with a simple construction guide and will need 2-3 people to assemble due to the weight (750kg). This is an investment piece, that once built you can count on for a lifetime.